Amzeal News/10308671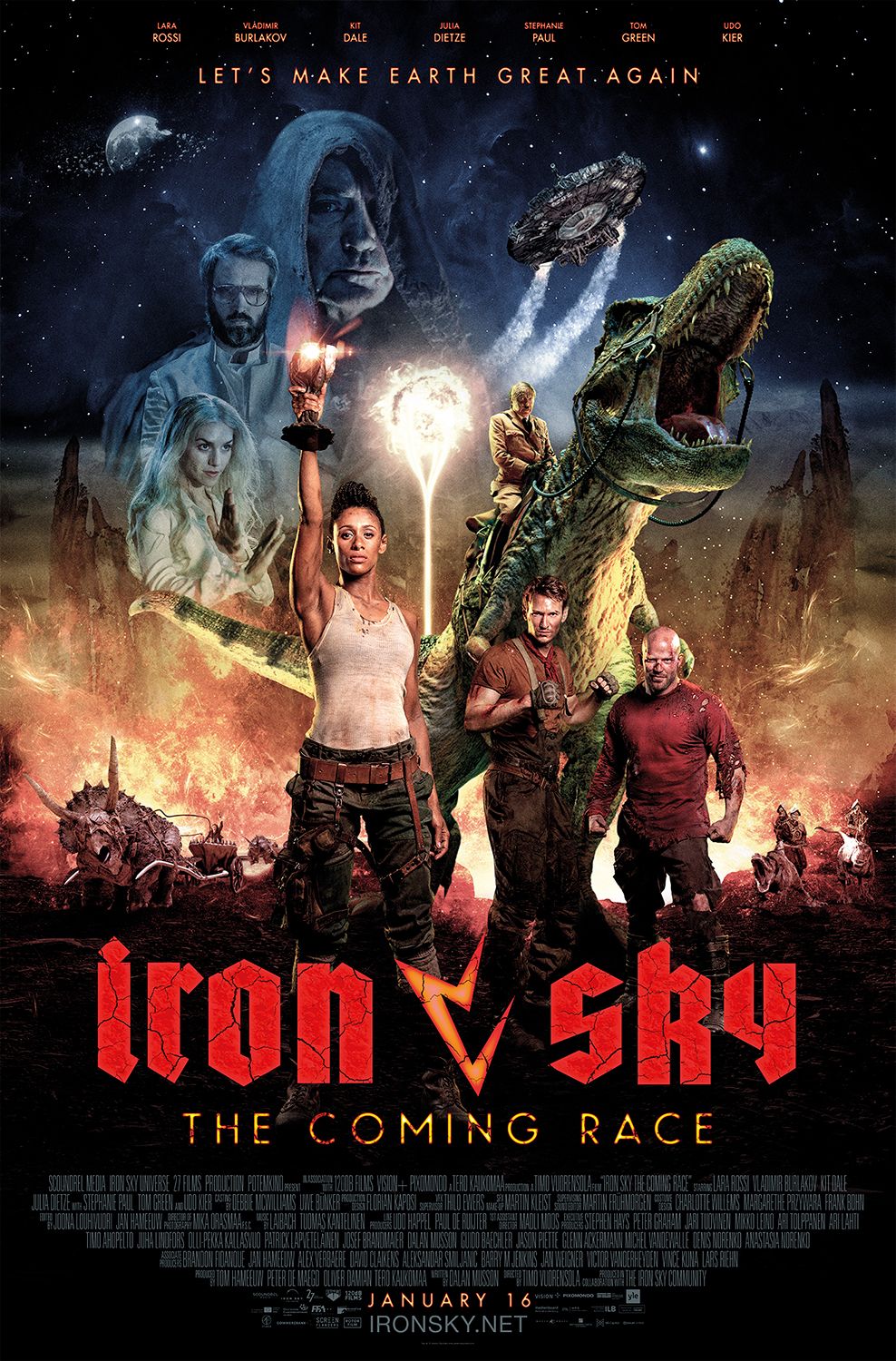 Finnisches SciFi-Abenteuer mit Adolf Hitlers Dinosaurierarmee kommt in die Schweizer Kinos
LUZERN, Switzerland
-
March 20, 2019
-
Amzeal
--
Am 21. März 2019 startet in den Schweizer Kinos die Science-Fiction-Komödie "Iron Sky - The Coming Race". Der von Iron Sky Universe produzierte und von 27 Films Production und der Schweizer Filmproduktion Jeridoo Universe AG koproduzierte Film, stellt die Fortsetzung des erfolgreichen ersten Teils "Iron Sky – Wir kommen in Frieden" vom finnischen Regisseur Timo Vuorensola dar.
Apple-Bashing auf der Nazi-Mondbasis: Neuer Stoff für Sci-Fi-Nerds
Der zweite Teil von Iron Sky knüpft gekonnt an die Geschichte von "Iron Sky – Wir kommen in Frieden" an. Nachdem im ersten Teil ein Atomkrieg ausgelöst wurde, als die Amerikaner die Nazis auf dem Mond entdeckten, leben die letzten Menschen auf der verwaisten Mondbasis der Nazis. Die Erde ist unbewohnbar geworden und der Mond droht auseinander zu brechen.
In den vergangenen Jahrzehnten haben sich dort verschiedene Kolonien mit illustren Völkchen gebildet. Hier hat jede Religion und jedes faschistische Regime seinen Platz, darunter auch die Anhänger eines Kults namens "Jobsismus", der sich um die Lehren von Steve Jobs und dem Jobsist-Anführer Donald dreht.
More on Amzeal News
Adolf Hitler als Anführer einer Dinosaurierarmee, Apple-Bashing, die wichtige Rolle eines unzerstörbaren Nokia 3310 und viele Anleihen aus der Pop- und Netzkultur machen den Film zu einem Fest für Liebhaber von trashigen Sci-Fi-Komödien.
Preisgekrönte Crowdfunding-Filmproduktion
Mit "Iron Sky - The Coming Race" gelingt Timo Vuorensola eine erfolgreiche Fortsetzung, die die Geschichte rund um die Verschwörungstheorie der Vril-Gesellschaft wieder aufgreift. Es gibt eine große Fan-Gemeinschaft von "Iron Sky", die diesen Film wie auch den ersten Teil mit Crowdfunding mitfinanziert hat. Für die Produktion stand ein Budget von 17 Millionen Euro zur Verfügung.
Regisseur Timo Vuorensola ist in der Sci-Fi-Szene kein Unbekannter. Er führte für zwei Filme der finnischen "Star Wreck"-Filmreihe von Samuli Torssonen Regie und spielte dort auch selbst eine Rolle. 2012 gewann er für den ersten Teil von "Iron Sky" auf dem Brussels International Fantastic Film Festival den Publikumspreis und den Hauptpreis des europäischen Wettbewerbs für Langfilme.
http://www.jeridoo.ch
Contact
Verleih: Praesens-Film AG, info@praesens.com
Produktion: Jeridoo Universe AG
***@jeridoo.com
Source: Jeridoo Universe
---
0 Comments